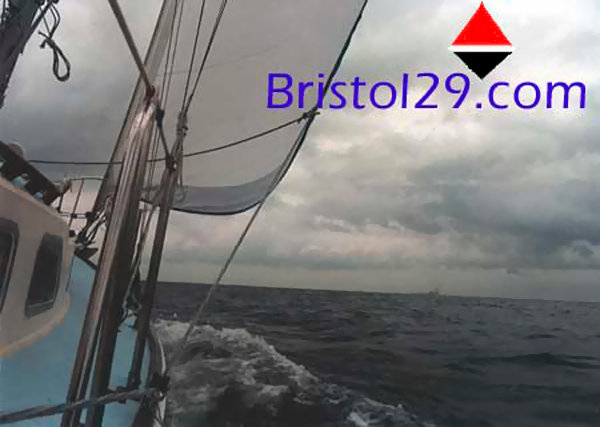 A restoration site for the Bristol 29

These boats were built by the Bristol Yacht Company, Bristol, RI, between 1966 and 1971
Visit and feel free to join the new Bristol29 Forum


"The lookout that first sights the cat shall have ten guineas and remission of sins, short of mutiny, sodomy, or damaging the paintwork." - Jack Aubrey
This is a site detailing my restoration of my Bristol 29, hull #165, built in 1971. There was a total of 169 B29's built at the original Bristol Yachts yard at Bristol, Rhode Island.
Bristol was started by Clint Pearson, after leaving Pearson Yachts in 1964. The newly-formed Bristol Yacht Company asked Carl Alberg to design the B27, a very successful boat, originally built for Bristol by Pearson. They next commissioned local marine architect Halsey Herreshoff to design a larger model, the 29. Halsey is the on and off mayor of Bristol with roots in the village that date back to the yacht building empire of his grandfather Captain Nat Herreshoff. He is a gifted marine architect. There is no doubt the 29 sails with the grace and sensitivity, having much greater speed than her waterline length would indicate.
I found #165 at Brewer's in Essex, Connecticut in 1987 and had her trucked down to Florida. Over the past 23 years I have added to and changed a lot about the boat. Bristol's in the 1960's were inexpensive, factory made boats. You could have a new 29 with sails for about 15K. But they were fairly spartan for cruising, sporting aluminum South Coast winches, roller reefing mains--the rage in 1971--gasoline engines (mine had a factory upgrade: a Volvo MD2B diesel), pressurized alcohol stoves, no hot water, no shower; and no refrigeration.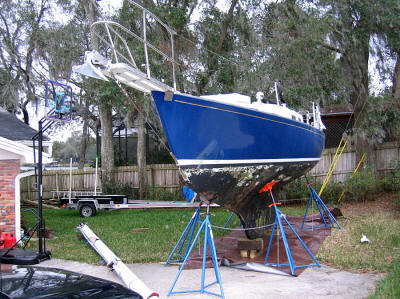 Instead of storing her on the hard at a boatyard, I decided to bring her home. After locating a trucking firm with a hydraulic trailer, she was hauled in St. Pete and brought to my home near Orlando. I'll tell you, the convenience of having her right outside the garage door, instead of a two hour drive away, is downright amazing.
Index

Cleats
Dodger
Running backstays
Staysail stay
Transom